Robert Verchick on CPRBlog {
Bio
}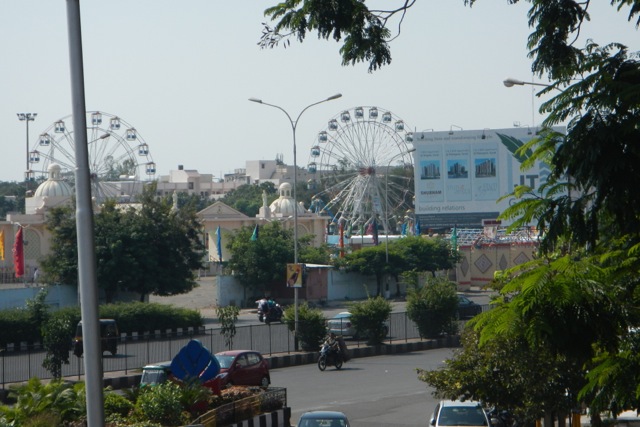 If you like sparkling diamonds and saffron saris, you will love Surat, India's bustling, no-nonsense city, some 250 kilometers north of Mumbai, near the Arabian Sea. If you're wearing a new diamond, there's an 80% chance its was shaped by Surati hands (and laser beams too). And nearly every Indian has something in the closet from Surat—which is what you'd expect from a city whose clattering looms churn out 30 million meters of raw fabric a day.
But Surat, with a population of 4.5 million, faces big challenges too. Its proximity to the Tapti River delta—a strategic advantage in trade—also makes Surat a flood magnet. In the last 20 years, the city has been drowned by three major floods caused by emergency releases from an upstream dam. Lesser floods, caused by hard rains, occur more frequently, interrupting local business and displacing families living in flood plains. In 1994, a flood like that led to an outbreak of the plague. In addition, tidal surges moving up the mouth of the Tapti River threaten the city from the oppositedirection. Even on calm days, high tides push salt water into parts of the river needed for drinking. All of these problems will be made considerably worse by climate change, whose effects include stronger downpours and rising seas.
Full text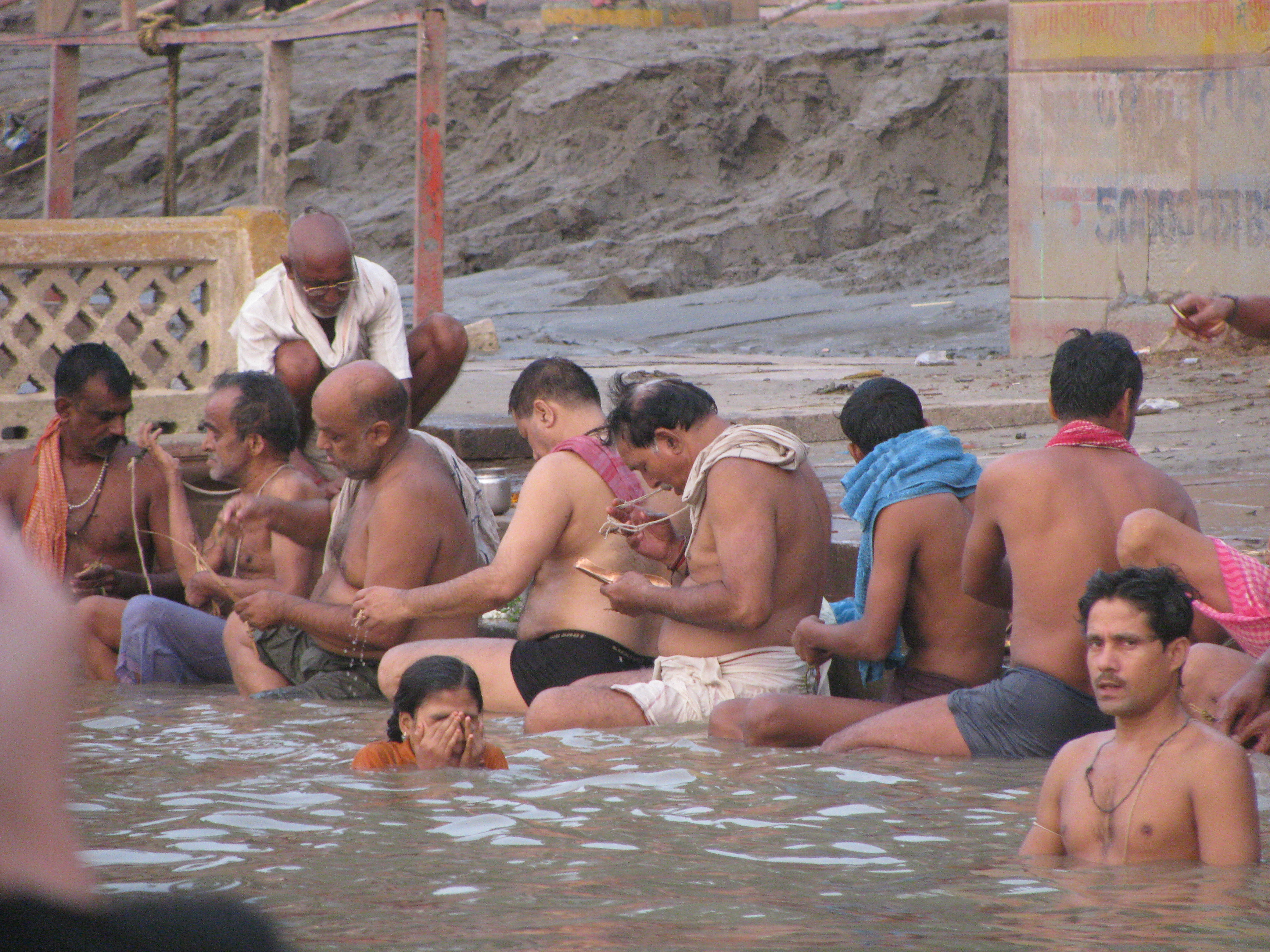 VARANASI -- We slip into the river at night, and with an easy stroke, our oarsman moves our boat across the chestnut waters of "Mother Ganga," India's Ganges River.
Spiritual life in Varanasi (also called Benares) is a passion. Hindus all over India save their money for the chance to visit this holy city and bathe in Ganga's purifying waters. At sunrise, along the string of bathing steps called "ghats," you'll see hundreds of people of all shapes and sizes soaping up in the water, praying, laughing and chatting, or just bobbing along. At the so-called "burning ghats," open-air cremations take place twenty-four hours a day in quiet ceremonies attended by family and curious onlookers. But this evening, my family and another, visiting from Maharashtra, are on our way to watch the Ganga Aarti, a Hindu ceremony of music and prayer devoted to Mother Ganga. The ceremony is ancient. But it takes on new power when you consider that today the Ganges is all but an environmental disaster—a septic river, riddled with industrial poisons and now threatened by climate change. If Mother Ganga were human, she would be in the I.C.U.
Full text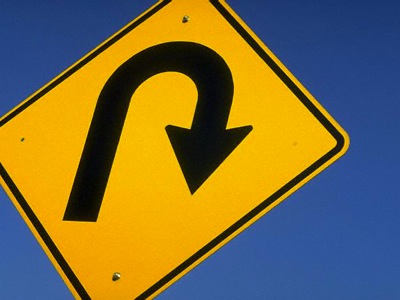 I'll forego reporting on India today to address a new development in the post-Hurricane Katrina litigation: Judge Jerry Smith's breathless hairpin turn in the "Katrina Canal Breaches Litigation." On Monday, Judge Smith, writing for a three-judge panel of the Fifth Circuit U.S. Court of Appeals, dismissed a lawsuit against the U.S. Army Corps of Engineers for flood damage during Hurricane Katrina, a case that could have exposed the federal government to billions of dollars in damages over the next several years. Judge Smith's opinion reversed a decision he wrote just six months ago, representing the same three-judge panel, which had ruled the plaintiffs' claims were legitimate and must move forward.
Why the switch? The new opinion suggests it is because the first time around all three judges somehow misunderstood the facts. But that's unconvincing. A look at the court's earlier opinion and the trial court's original findings of fact shows that the Fifth Circuit got it right the first time. What's more, this sudden reversal could deny thousands of flood victims the means to build back their lives, while narrowing the chances that the government can be held accountable for even the most pedestrian mistakes. I'll return to these points in a moment, but first some background.
The Katrina Canal Breaches Litigation involves claims by residents of New Orleans and St. Bernard Parish for damages resulting from storm surge allegedly funneled through the Mississippi River Gulf Outlet (MR-GO), a navigation channel that has since been de-authorized and "plugged" for safety reasons. (I last blogged about this case here.) Plaintiffs argued that the Army Corps's negligence in design, construction, and maintenance of MR-GO increased Katrina's storm surge and made the levee system more vulnerable than it otherwise would have been. Plaintiffs were particularly troubled by the Corps's refusal to prevent erosion by armoring the banks at the time of construction and in the several years thereafter. The lack of armor—or "foreshoring," as engineers call it—caused the channel's width to expand considerably, leaving a perfect path for a bulldozing hurricane.
Full text
I had been wondering what ordinary people in India think about climate change. So last week on my ride home from the office, I asked my auto-rickshaw driver. He was a talkative guy, bearded, with black spectacles and a navy blue turban. He had been keen on identifying for me the many troubles a man like him endures on the subcontinent. "Too many people!" he shouted, his voice competing with the cab's rattling frame and the bleats of oncoming horns. "Too much traffic!"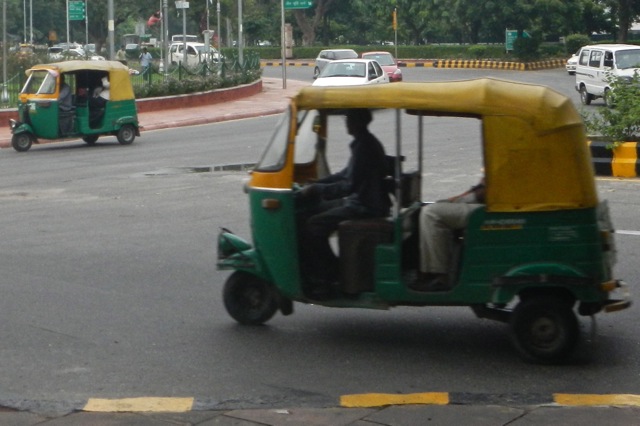 We swung around a landscaped rotary. I gripped my seat. A copse of date palms swerved by, and then a billboard: "Enrich Delhi's Green Legacy." I took the bait. "So what do think about global warming?" I shouted.
We slowed to a stop behind a row of cars and two-wheelers waiting at the light. He cut the motor. A small boy pranced into the stalled traffic and began turning cartwheels in hopes of a small remuneration.
"Yes, I know about that," the driver said. "Too much warming. Too much heat."
"But do you worry about it?"
"Me—no." He fired the engine and frowned slightly. "You know, India has too much noise!" he shouted. "And too many dogs! Too many everything."
Full text
NEW DELHI — Here's what monsoon season looks like in India. This summer, the northern states have been lashed with rain. In the northeastern state of Assam, July rains swamped thousands of homes, killing 65 residents. Floods and mudslides in northeast India sent nearly 6 million people heading for the hills in search of temporary housing (a tarp, a corrugated roof) and government aid (when they can get it). In New Delhi, the monsoon hasn't caused anything nearly as traumatic. But one cloudburst can easily flood roads and storm canals, sending bubbling streams of grease and sewage across the urban slums.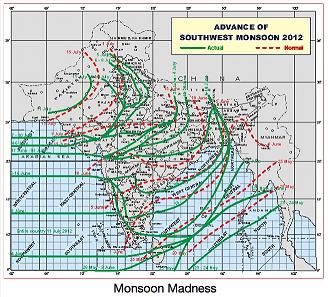 Haven't heard about all this? Normally, I wouldn't have either. But this semester I'm living in New Delhi, near one of those storm canals, working as a Fulbright-Nehru Research Scholar affiliated with India's Centre for Policy Research (another "CPR"). My plan is to examine the ways in which Indians are adapting to climate change, at the national, regional, and local levels.
Perhaps no country in the world is as vulnerable on so many fronts to climate change as India. With 7,000 kilometers of coastline, the vast Himalayan glaciers, and nearly 70 million hectares of forests, India is especially vulnerable to a climate trending toward warmer temperatures, erratic precipitation, higher seas, and swifter storms. Then there are India's enormous cities (home to nearly a third of the population), where all of these trends conspire to threaten public health and safety on a grand scale—portending heat waves, drought, thicker smog layers, coastal storms, and blown-out sewer systems.
Full text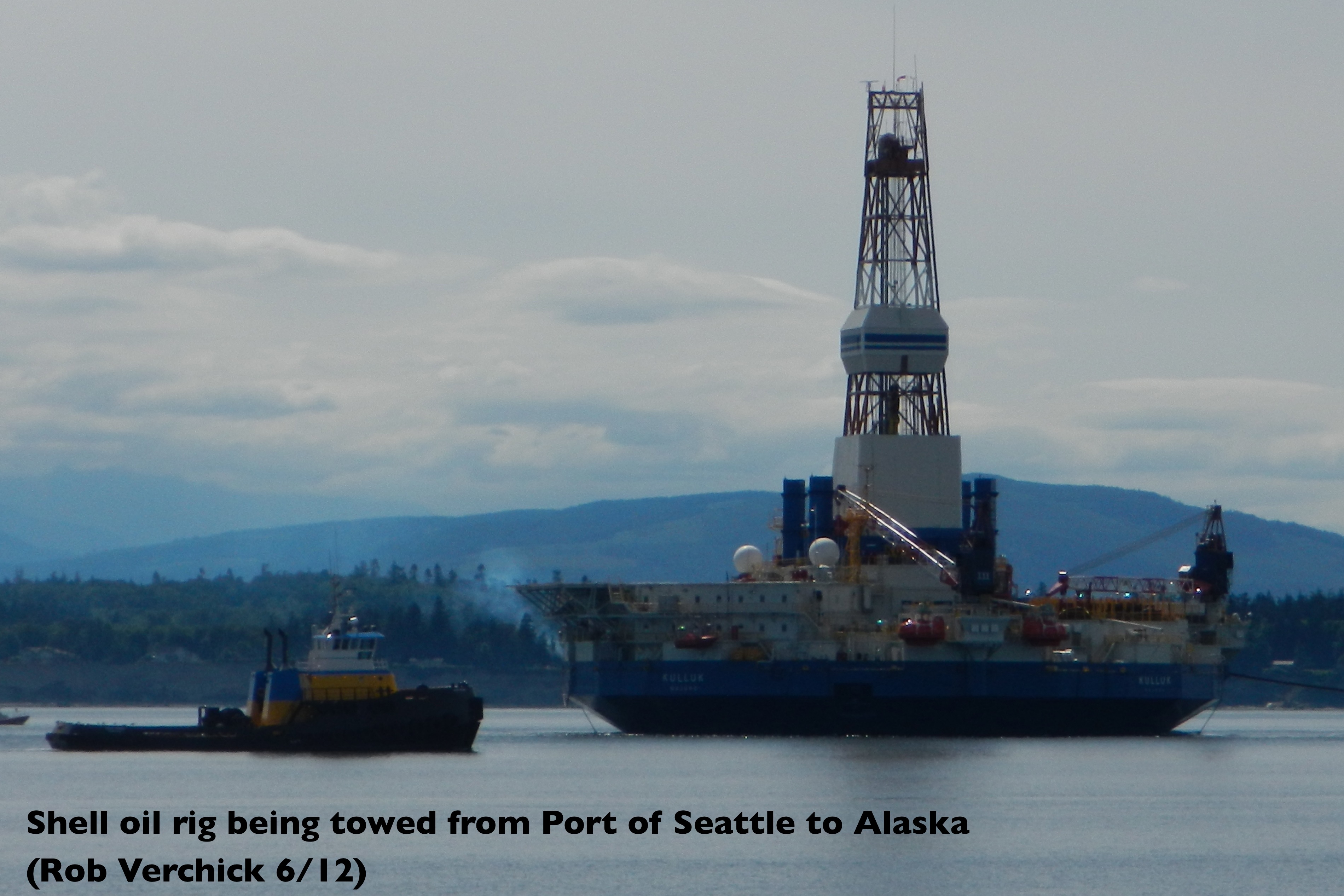 Good news for the Arctic! "I believe there will not be an oil spill"—this according to Ken Salazar, the nation's Secretary of Interior and, now, environmental crystal-gazer. As someone still fretting about BP's mess in the Gulf, I want to believe; but it's hard. So let me back up.
Earlier this week, Secretary Salazar said it was "highly likely" that his agency would grant Shell Oil permits to begin drilling exploratory wells in Arctic waters north of Alaska, despite opposition from many environmental groups. While acknowledging the many challenges presented by such an operation, the Secretary recalled his department's new permitting standards and expressed confidence in a new oil containment device that was recently tested in Washington's Puget Sound.
Then: "I believe there will not be an oil spill. . . . If there is, I think the response capability is there to arrest the problem very quickly and minimize damage. If I were not confident that would happen, I would not let the permits go forward."
Full text
The end of the school year always leaves me wishing that I could have lectured more clearly or somehow covered more in my classes on environmental law and policy. There was really just too much to discuss. How does one do justice to all those doubtful arguments in support of the Keystone XL pipeline? It's a job creator! A gasoline price cap! A floor wax! Or the continuing saga of how the Obama administration should reorganize the offshore drilling responsibilities assigned to the MMS, I mean BOEMRE, I mean BOEM/BSEE. And there is never enough time to test it all.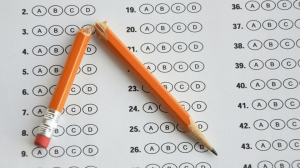 This year I've assembled a few questions that have been on my mind this semester but that didn't make it onto the exam. (Answers are posted at the bottom of this page). By the way, if you're a regular reader of CPRBlog, this should be a snap: All of the answers can be found in CPRBlog entries from the last five months.
So find a quiet spot, sharpen that No. 2 pencil, and test your knowledge.
1. Last year, when the EPA began limiting emissions of CO2 from coal-burning power plants and other sources, the energy industry blew a fuse. Affected companies publicly argued that greenhouse gas regulation had gone too far. But last February during oral argument before the U.S. Court of Appeals, lawyers for some of those same companies argued that the agency's rule was invalid because it did not go far enough. According to them, what was wrong with the rule?
Full text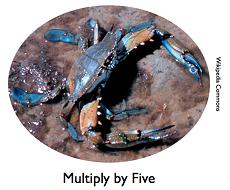 I spent last Friday – the second anniversary of the BP Blowout – in the vast basement of the Orleans Parish Criminal District Court building, shifting in my metal chair, ignoring the talk-show chatter from the flat screens, and keeping an eye on the red digit counter to know when my number was up.
I'd been called for jury duty.
Whether I will eventually be deployed is up to the gods, but until then I had resolved to study (with the help of this building's creaking Wi-Fi system) all 2,000 pages of the proposed multibillion-dollar settlement in the Deepwater Horizon case – the settlement made public last week by BP and thousands of Gulf Coast residents and businesses. (I blogged earlier when the broad outline of this settlement was first announced here.)
Now some of you may wish to savor the details, poring over the documents page-by-page between sips of Courvoisier. But for the rest, I've got the bottom line [SPOILER ALERT]: The proposed settlement rewards plaintiffs' hard bargaining, puts a crimp in federal and state hopes for a speedy trial, and demonstrates once again that despite the size of this deal, the main course is yet to come, in the form of federal civil fines and possible criminal prosecution.
Full text
The BP Oil Spill case settled! Well, part of it. The smaller part. But, still, we must count this a victory for U.S. District Judge Carl Barbier, whose reported 72 million pages of assigned reading will inevitably be shaved down. (Does this man have an iPad?)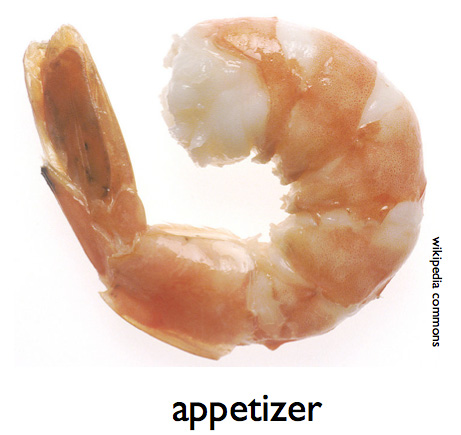 On Friday evening the court announced that BP had reached a settlement with the steering committee that represents thousands of private plaintiffs in the case. Judge Barbier postponed the trial indefinitely while the remaining parties, including the federal government, regroup. According to news reports, the settlement would cover claims for economic loss and medical harm. BP estimated that the settlement, which has no firm cap, might total $7.8 billion; the actual number would depend on how many plaintiffs accept the deal and how much they're ultimately paid. Plaintiffs displeased with the offer could opt out and stay in the litigation. And all private claims against Transocean and other defendant companies remain.
On balance, the settlement appears to be a good thing. But this plate is just the appetizer. The main course—a pepper pot of federal civil claims and criminal charges—has yet to come. And that's a dish that could really bust a gut.
Full text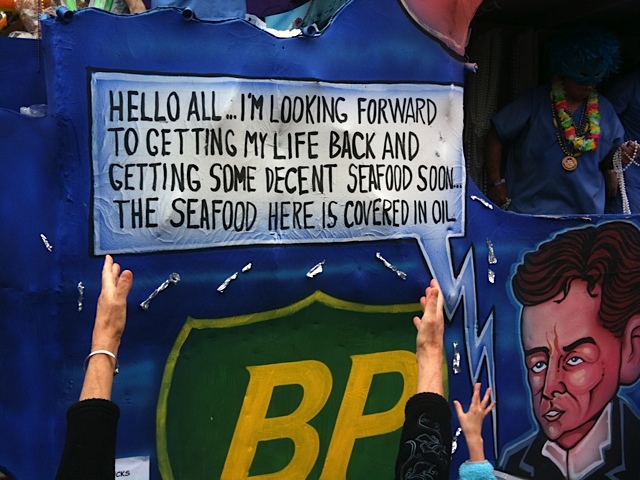 Mardi Gras Float, 2011
Well, another magnificent Mardi Gras has ended, and at this point, I'd normally be slouched on the sofa sipping a tomato juice (neat) and sorting beads. But not this year. That's because next week, squadrons of lawyers, journalists, petroleum engineers, and fisher folk are scheduled to descend on New Orleans, squeeze into a federal courtroom, and begin on Monday what the media have modestly called, "The Trial of the Century," otherwise known as the BP Oil Spill litigation.
Whatever the rest of the century holds, it seems fair to say that this legal dispute, if it does not settle, will be the most complicated environmental trial anyone has ever seen. With a thousand plaintiffs, a galaxy of witnesses, and 20,000 exhibits, this spectacular has more moving parts than a Madonna half-time show. As the trial unfolds, I'll provide you with some occasional shrimp-boots-on-the-ground legal blogging.
First, though, I'll start with the background of the case (please see also two CPR white papers: Regulatory Blowout: How Regulatory Failures Made the BP Disaster Possible, and How the System Can Be Fixed to Avoid a Recurrence (Oct 2010) and The BP Catastrophe: When Hobbled Law and Hollow Regulation Leave Americans Unprotected (Jan 2011)). Here are some answers to common questions.
Q: Can you remind me what the BP Oil Spill was all about? I remember "Top Kill" and "I'd like my life back," but the rest of it is a little hazy.
Full text